Payback: The Swervening (Paguen a: El Swerve)
was the 1st annual virtual
Payback
professional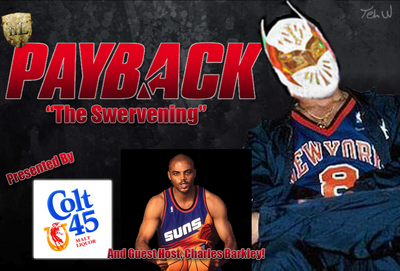 wrestling
pay-per-view
(PPV) event produced by
WWE
and
newLEGACYinc
that was held over 3 days on Feb 13 (Day 1) and 14 (Day 2, taped on Feb 13), 2014 in Japan. Day 3 has been pushed back to an unannounced date due to Dino being deported from Japan back to Mexico.
Sponsorship: Kids Bop, Colt 45.
The commentary team: Johnny, Dino, Jericho, Duel, & Htial (a man of few words). Also featuring Michael Cole and Jerry "The King" Lawler, both repeating the same shitty canned lines in the background.
Special Celebrity Guest: Charles Barkley. He literally trended worldwide on Twitter, not sure if it's a coincidence or not.
RIP Yokozuna (the tribute show).
Backstage Interviewers: Renee Old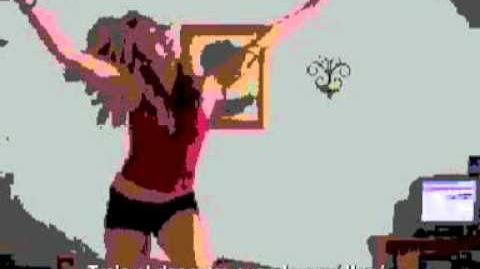 At mid-show, the feed was reportedly cut by JBL, who was to be a special guest referee. He was arrested on the scene and brought in for questioning. It was later revealed that the newWestofrica stable of "Cotton-Eye" Joe Hennig, Kofi Kingston, and an unidentified third man were the culprits.
The arena for Day 3 was hand built by the nL fans. The arena itself is said to be equal to, if not greater than the Tokyo Dome. After months of waiting (due to a dispute between Dino which caused him to walk out of the group), the third part of the show was to occur on the night of May 18.
Match Card Day 1: Hiroshima
Edit
No
Result
Stipulation
Notes
Kick-off
Roman Reigns def. Old Legacy Inc. ('The Million Dollar Dean' Ambrose, Hulk Hogan, & Ted DiBiase) by DQ

One on Three Tag Handicap Match

Dean Ambrose recently joined OldLegacyInc.
Roman Reigns is in denial about the death of The Shield.
Dean Ambrose's new name is "The Million Dollar Dean" Ambrose.
Hogan does not give a fuck about the rules.
Hogan beat up Robinson because he owed him drug money.
Old Legacy Inc is too drugged up to compete in a match as a unit, thus causing them to go ape shit and get DQ'd.

1
Scott Hall def. John Cena, The Giant, Dolph Ziggler, Sgt. Slaughter, Goldberg

Booked because the fans were able to retweet the event 100 times.
Booked due to the death of Yokozuna, who had to vacate the title.
Everyone qualified for the Chamber after beating Debra.
John Cena picked up The Giant.
WAIT, HOW DID CENA PICK UP THE GIANT?!
Hall is so drunk that his wife left him.
Hall brings gold to the Band (just him).
Goldberg has Barbara Streisand's nose.

2
The Bro-ManChus (Yokozuna & Cody Rhodes) def. Vince McMahon & "The Fart Breakwind"cShawn Michaels w/Special Referee Heath Salad

Tag Team Elimination Match w/Special Guest Referee
Contendership for Jinder's tag titles 

Cody Rhodes brought Yokozuna back from the dead.
Yokozuna could just be smoke and mirrors though.
Heath Salad was rumored to be Charles Barkley, but that would just be turrible.
It's McMahon & Michaels' Valentine's Day match with each other.
Vince & Shawn both came out gay, after snorting some coke backstage.
Michaels broke up with Vince

3
Natalya def. Aksana (c), Lita, Kaitlynn 

Four Woman Over-the-Top-Rope Battle Royal for the Diva's Championship, Lita's Hall of Fame spot, Kaitlynn's career, and Natalya's farting

Team "I Fart You" competed in this match together.
Lita would either win the Diva's title or give up her Hall of Fame spot.
Aksana represented the Wolfpac, which may or may not be disbanded.
Kaitlynn is putting her career on the line.
Natalya is giving up her farting for a year if she loses. Somehow, she is back in the title picture again.
Natalya is now in the Hall of Fame after eliminating Lita.
The Divas Championship and the Hall of Fame has been unified.

4
Never happened moved to Day 2

Triple Threat Match w/Special Guest referee
Contendership for THE BIG GOLD Title

Triple Threat involving Triple H, Stone Cold Steve Austin and Kofi Kingston with JBL as the Special Guest Referee
JBL allegedly cut the power before the match, shutting down the feed.
Match Card Day 2: Osaka
Edit
No
Result
Stipulation
Notes
1

"The Intellectual Savior of Dem Asses" Damien Sandow vs Kofi Kingston vs Jack Swagger went to a No Contest

Triple Threat Match w/Special Guest Referee "Cotton Eye" Joe Hennig
a #1 Contender Match for THE BIG Gold Title

This match resumed on Day 2 of Payback.
Triple H, JBL, & Austin were taken in for questioning. Kofi was allowed back because he's "too nice a Jamaican man to do such a thing."
The NWO may be a brain washing cult.
The New West Ofrica - Cotton Eye Joe Hennig & Kofi Kingston - was formed as Hennig attacked Jack Swagger and Damien Sandow.
This time, it was the nWo who allegedly cut the feed, but both Hennig and Kingston were in the ring at the time, leading to speculation of a mystery third member of the nWo.
Day 2 turned out to be about 15 minutes due to the New West Ofrica.
Day 3 will be held in Tokyo.
All three men advance to the main event against Ryback.
Match Card Day 3: Tokyo
Edit
No
Result
Stipulation
Notes
1
One Night in Bollywood (Jinder Mahal & Syxx-Pac) (c) def. RoManChus (Roman Reigns & Yokozuna)

It took 3 months for Jinder to find his partner, hence the delay.
Cody got jumped before the show. Roman has a moustache and they're relatives, it's okay.
Syxx was wearing a suspicious newWestofrica shirt.... hmmm
Yokozuna may have been dead; he was thought to be Kane for wearing red and black.
Jinder threw up the Wolfpac sign at the end.

2
Scott Steiner (c) def. Brock Lesnar and Ricky "The Shitty Charizard" Steamboat w/ Special Referee Big E Langston (Pap E Shango)

Copious amounts of cocaine is coming from Big E. He's a young lion referee who must pay his dues. He could possibly count to 5.
Brock's return after losing to Sin Cara, coming back younger losing a tattoo, and growing a goatee.
Steiner was thought to be a member of the new West ofrica, but just turned out to be a fan of them rather than a member.
Just how many boats are in this match? We don't know, Blake.
This is a hoss match, and the Dreamboat's the biggest hoss of all.
Pap E Shango is doing some voodoo shit.
Axshiiboomba from Steiner!
Pap E Shango has been fired.
Steiner wins with the Steinerline; Lesnar screwed with the rope break.
CRASH AND BURN!!!

3

Jack Swagger def. "Intellectual Savior of Dem Asses" Damien Sandow, "The WildBlack" Kofi Kingston & "The BIG Guy" Ryback (c)

Due to the feed being cut, the three contenders advanced to the main-event. It is unknown who the third man of the nWo is along with Kofi Kingston and "Cotton-Eye" Joe Hennig.
Sandow is representing Sin Cara and the Carabinet. The GM has graciously allowed him to main-event.
Kofi is representing the newWestofrica, hoping the third man will be revealed.
Swagger represents the Crew after partner Jinder retains the tag titles. He's still stomping on the Mexican flag.
Kofi is being called the WildBlack by the nL Universe and is the architect of the nWo (Hennig is the fox).
Ryback is the lone wolf, nicknamed WildBack. Is he allied with the Band, Crew, or nWo?
Sandow is pissed that the newWestofrica is trying to take over Sin Cara's shows. 
Damien is christened as the Brainmaker (maybe).
Kofi has gone insane since joining the evil stable. He survived being put through tables multiple times. He hits the Paige Turner, hurting his twat in the process.
Swagger steals the BIG GOLD, dropping an elbow onto Sandow through a table - as Ryback superplexed Kofi!
The BIG GOLD is renamed the BIG AMERICA by new champion Swagger.
Dave Meltzer gave the match 5 stars, as it actually happened in the Tokyo Dome.
Elimination Chamber Results
Edit
| Entry Number | Wrestler |
| --- | --- |
| 1 | John Cena |
| 2 | The Giant |
| 3 | Dolph Ziggler |
| 4 | Sgt. Slaughter |
| 5 | Goldberg |
| 6 | Scott Hall |
| # | Elimination | By |
| --- | --- | --- |
| 1 | Dolph Ziggler | John Cena |
| 2 | The Giant | John Cena |
| 3 | Sgt. Slaughter | Goldberg |
| 4 | John Cena | Scott Hall |
| 5 | Goldberg | Scott Hall |
Ad blocker interference detected!
Wikia is a free-to-use site that makes money from advertising. We have a modified experience for viewers using ad blockers

Wikia is not accessible if you've made further modifications. Remove the custom ad blocker rule(s) and the page will load as expected.