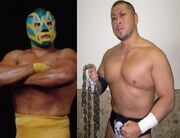 The Fishdicks are a tag team in the NewLegacyInc Universe that originated from the #TNAid Extreme Warfare Revenge stream.
The team consists of Fishman and Dick Togo and their team name consists of the names of both wrestlers. 
On the #TNAid Extreme Warfare Revenge stream, the feud between NOOOOORV and Throb Terry against the team of Fishman and Dick Togo was suggested. The name Fishdicks was suggested for the new tag team.
However, the feud was abruptly ended when they realized that Dick Togo would not be able to team with Fishman due to being a non-wrestler. In response, Dick Togo was replaced by Tyler Breeze.
Theme Song
Edit
Ad blocker interference detected!
Wikia is a free-to-use site that makes money from advertising. We have a modified experience for viewers using ad blockers

Wikia is not accessible if you've made further modifications. Remove the custom ad blocker rule(s) and the page will load as expected.