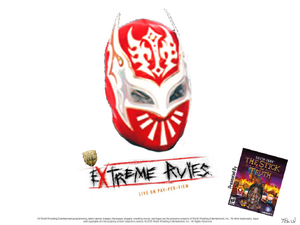 Extreme Rules
was the first virtual
Extreme Rules
professional wrestling
pay-per-view
(PPV) event being produced by
WWE
and
newLEGACYinc
and was presented by South Park: The Stick of Truth. It was held over two days on January 17-18 due to WWE's radical new PPV scheduling. This was a highly anticipated PPV because of Sin Cara Negro's booking skills during
Wrestlemania XXX
. There were no official booked matches pre-PPV, but then again, even if there were, they would probably all be changed at the last minute due to
Vince Russo
, who returned at Wrestlemania XXX. Famous celebrities who attended included Catherine of Valois, the Empress of Constantinople/Governor of Cephalonia, and her boyfriend Thomas Athol Rafter. The event's special backstage interviewer was Bryan Adams, who was then fired and replaced by Mimoun Azaouagh. Kolton was in attendance. The WWE Network now costs $199 pesos. Shane McMahon was in attendance with his new wife. 
The pay-per-view failed to live up to expectations, as the popcorn match wasn't long enough, and in the space of one month, Sin Cara had gone from the most amazing booker in the world, to the worst booker in the world. However, he and Vince Russo remained employed through Payback.
Match Card
Edit
No
Result
Stipulation
Notes
Kick-off
The Bollywood Blondes (Jack Swagger & Jinder Mahal) def. The Band ( Scott Hall & Drew McIntyre)
Extreme Rules Tag Team Match for the WWE Tag Team Championship

The Band won the #1 Contendership from Team Hart Burn
This is the only match on the card that will follow any continuity after Wrestlemania
Drew McInytre became part of the Crew which includes himself only
Jack Swagger, like JBL, still doesn't like Mexicans
Jinder Mahal has really dark nipples tonight
Jack Swagger then said "Fuck You!" to Jinder Mahal and joined the Crew with McIntyre
They were both from Mexico too.
Jinder Mahal holds both Tag Titles

1
Metal Madness (Macho Man Randy Savage & Seth Rollynns) def. The Los Caronies (Sheamus O'Secretary & Antonio Cesaro) 
Tornado Tag Hell in a Cell Match

Seth Rollynns is the new Ms. Madness
Sheamus had joined the Sin Cara Crew at some point, along with Cesaro, and became Sin Cara's Secretary
This fued goes all the way to last week
Macho Man wanted Kaitlyn, but Jerry Lynn made him settle for Seth
This was Sin Cara's revenge as he wanted to be Ms. Madness
Metal Madness got their asses beat in this match 80% of the time
Sheamus stopped following the script
Sin Cara was pissed at The Los Caronies

2
Scott Steiner def John Si-na vs Steve Austin vs Kevin 'Diesel' Nash-Snuka (c)
TLC Fatal 4 Way for the Mexican Championship & the rights to beat Debra

Sin Cara brought back the US Titl e, as the Mexican Championship
Kevin Nash abandoned the New York Giants, and became Diesel
Ceinata represented the Minstry of Darkness, and according to Dino changed his name to Cina to appease GM Sin Cara.
Austin is part of the Snaketion of Domination Of Debra and calls himself K. Malik Shabazz Austin
Austin will no longer be opressedd by the white woman known as Debra, and he'll shove his black fist right in her face.
Debra sent Diesel Snuka after Austin
Diesel is the daughter of Tamina Snuka
Steiner just wants to fuck Debra
Austin gave up the WWE Undisputed Title to get the rights to beat Debra
The Title & Rights are one in the same
Cina just wants to white knight Debra
Austin gave Cina a backdrop onto the steps and broke Cina's leg.
Debra raised the brief case out of Austin's reach and rained down Cookies (The Sin Cara Screw Job)
Steiner opted to fuck Debra live on RAW rather than beat her. He has yet to cash in his right to fuck Debra.
Jericho not paying attention forgot Dino stated that John Si-na changed his name

3
Sin Cara def. 'The Darkness' R-Truth & Damien Sandow

Extreme Rules Triple Threat  #1 Contender's Match (For The Million Dollar Chris Hero Batista Memorial Iraqi Championship)

This was a definite Popcorn match
Sin Cara booked himself
This was a multiracial conciscious match
Sin Cara wanted Damien Sandow's bathrobe, but he refused. Then Sin Cara found out that Sandow was afraid of the dark, hence why he put Sandow in this match with himself and R-Truth, in hopes of stealing the robe
Sandow is rumored to join the Snaketion of Domination
Sandow to enlighten the darkness must defeat R-Truth
Sin Cara is afraid of not having his lighting
Sandow gave up his robe and joined Los Caronies
Sin Cara botched the finish
Wait a minute! Now wait a minute!

4
'The Cape Town Werewolf' Chris Jericho def.'The 2014 Royal Rumble Winner' Justin Gabriel & Goldberg 
The Triple Threat "WAIT A MINUTE!'  Tables Match

Match was booked by Sin Cara because he was pissed of the last matche's finish
Justin Gabriel abandoned the LWO
Goldberg is the newest addition to the WWE Roster. 
Aksana is throwing a fit because her match is not on.
Jericho was not originaly supposed to appear in the event.
Jericho hates Gabriel because he stole the Cape Town Werewolf monicker
Johnny's disgusted really
Jericho's vest is made of Silver to combat Gabriel
Justin Gabriel, lost then won the match, which allowed him to stay in
Gabriel put himself through all the tables
Sin Cara is flipping out, he never expected the match to go so long
The Laws of the Physics broke during the match
Gabriel quit wrestling to become a pole dancer during the match
Gabriel was kicked out of the arena by Sin Cara for breaking too many tables.

5
Aksana (c) def. Natalya & Stephanie McMahon 
Triple Threat Steel Cage match for the Diva's Championship

The Cage was blue for Sin Cara
Aksana is the wildcard, She Fucks Cats
Natalya is still trying to get her revenge on Aksana
Both Natalya & Aksana want to fuck Stephanie
Sin Cara harnessed Justin Gabriel's power and made him the cage
Cole-Slaw
SweatyPussy trended during the match
Stephanie fucked Aksana atop the cage, then Natalya shitted on her.
Micheal Cole-Slaw is more over then every Diva in the match.
Oh look out don't go up there, it's really dangerous.
The real loser is Aksana
Team I Fart You Reunited

6
 Stone Cold Steve Austin (c) def. Sin Cara with Special Guest Referee The Ultimate Referee (Ultimate Warrior)
Extreme Special Guest Referee Match for the Million Dollar Chris Hero Batista Memorial Iraqi Championship

Sin Cara personally booked a The Ultimate Guest Referee
The Ultimate Warrior is the first Sin Cara Hall of Fame inductee
Sin Cara is affraid of the dark thus causing his special lighting to come out
Steve Austin's personality and appearance had radically changed in this match, suggesting he might be bipolar. Hmmmm.
Steve Austin hits Sin Cara with a Van-Debra-Nator.
Warrior had none of Austin's or Sin Cara's shit
Warrior counts the 3 count while cutting an Ultimate Promo about Bowels.

7
Yokozuna def. Rey Mysterio, Shawn Michaels, Dean Ambrose
4-Man Over the Top Rope Battle Royal

Cooldown Match for the vacted Intercontinental Championship
Mysterio's doing it for Eddie, who had died before the event
Ambrose representing the Iraqi Shield.
Eddie cried from the Heavens
Yokozuna Big Boots Micheals out of the ring in what seemed to be a biased win set up by the Carabinet

8
Old Legacy Inc (Ted DiBiase, Big John Studd, and 'The American Nightmare' Dusty Rhodes) def CM Punk
Extreme Rules One on Three Handicap Match

Bonus Cooldown Match
Old Legacy Inc love drugs, but CM Punk doesn't so they hate him
Punk hates old people.
Dusty Rhodes is apart of the Old Legacy Inc because he's in Hard Times.
Dusty Rhodes tries to set up musical chairs.
CM Punk is trying to take down the Drug Cartel of Old Legacy Inc
Dusty Rhodes has broken the laws of physics
CM Punk Knocked himself out from a botched springboard dropkick.

Main Event
'The Big Guy' Ryback def. 'The Big Lawyer' David Otunga, 'The Big' Virgil, 'The' Big Show
Fatal Four Way Ladder Match for the Undisputed WWE Championship

All the guys in this match are Big!
Almost everyone is bald
DMX played as Hype Music, Unconfirmed if he performed it live
Virgil announces he will sell the WWE World Heavyweight Undisputed Championship as a gimmick if he wins.
If Ryback wins he'll turn the title into the Internet Championship
Virgil tried to sell all the ladders used in the match
To gain entry into this match Virgil defeated John Cena, Big Show defeated Heath Slater, Otunga defeated CM Punk, and Ryback defeated Skip Sheffield.
Ryback hits a Double-Shellshocked on Otunga and Big Show
Ryback had stage fright mid-match
Legit rage & hate ran through the match between Virgil & Big Show
This is a shoot match
Virgil was booked to win, but this was changed as he is shoot retarded
Battle Royale Results
Edit
| No | Eliminated | By |
| --- | --- | --- |
| 1 | Rey Mysterio | Yokozuna |
| 2 | Dean Ambrose | Shawn Michaels |
| 3 | Shawn Michael | Yokozuna |
Aftermath
Edit
Scott Hall wasn't actually at the event, but instead it was a hologram version of him a la Tupac the other year. Hall actuall was in the nearest hospital "Weenie Hut General" on life support a la Mae Young, after hall who was walking to the arena was confronted by Syxx. Syxx still recovering from shredding his anus into pieces, offered Hall a bottle of scotch and 20 peyotes which put Hall into a coma instantly after ingesting it all in less then 30 seconds. After the main event, Duel also kept repeatedly saying, "I want to fuck CrazyClock!" Duel nor CrazyClock could be reached for comment.
S Hall