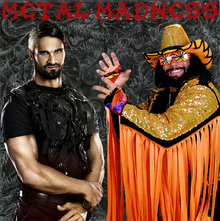 Metal Madness is a tag team created by newLEGACYinc. The team consists of "Seth Metal" Seth Rollynns and "Macho Man" Randy Savage. The Bikertaker would later join at Money in the Back.
WWE (2014-Present)
Edit
In April 2014, Randy Savage returned to earth after his near three year feud with Jesus, stating that he was looking for a new bride. He made his choice quickly, picking Lynn family member Kaitlynn. After courting Kaitlynn for several weeks, Randy was forbiden to marry her by her father, Jerry Lynn, who forced Savage to settle for Lynn's son, Seth Rollynns, instead. A week later Seth and Randy were set to be wedded, but the ceremony was interupted by Sin Cara, who objected to the union and sent Sheamus and Antonio Cesaro, The Los Caronies, to the ring to attack everyone. In the chaos of the brawl, Jerry Lynn was injured by the duo, an act which led Rollynns and Savage to agree to form a team to take on The Los Caronies at Extreme Rules, a match which Sin Cara then made a Hell in a Cell match.
At Extreme Rules, Rollyns and Savage, now going by the name of Metal Madness, defeated The Los Caronies in the Hell in a Cell match despite being beaten up for 99% of the match.
At Money in the Bank "Macho Man" would join forces with Bikertaker
In wrestling
Edit
Seth Rollynns' Finishing Moves

Black Out (running curb stomp)
Avada Kedavra (superkick to a kneeling opponent)

Bikertaker's Finishing Moves

Last Ride (elevated powerbomb)
Wanting to do it