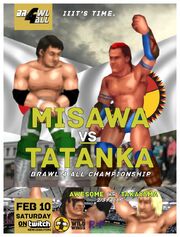 Brawl 4 All II: Misawa vs Tatanka was an Brawl 4 All event that took place on February 10th, 2018. The event was headlined by the
Brawl 4 All Championship
bout between champion Mitsuharu Misawa and challenger Tatanka.
Background
Edit
The main fight of the show was Mitsuharu Misawa defending the Brawl 4 All Championship against Tatanka. At Brawl 4 All: Misawa vs Ryder, both men successfuly won their scheduled matches, with Misawa successfully defending the title against Zack Ryder, and Tatanka defeating Daniel Cormier earlier in the show. On February 6th, 2018, the nL twitter officially announced the fight between the two. Many believe that Tatanka is too much of a threat to Misawa, but many also believe that the earth is flat, so who can you really trust?
At Brawl 4 All: The Gauntlet, Eddie Bravo defeated Rod Johnson to capture the Brawl 4 All Championship, viciously injuring Rod's head for the victory. At Misawa vs Ryder, Rod's brother Dick avenged his brother by defeating Bravo in round 2. Now with Rod healed, he wants his ultimate revenge. As such, he will team with his brother Dick to face Bravo and a partner of his choosing.
At Misawa vs Ryder, Mike Awesome and Yoshihiro Takayama squared off in an intense explodng death match. After a brutal contest Takayama walked out of the event with his hand raised. But rather than be rewarded with a title shot for his efforts, the Brawl 4 All commitee instead rewarded Takayama with a rematch against Awesome, but this time with a two out of three falls stipulation. What exactly does this mean? Only a few men know, and I'm not one of them so I can only speculate that it will be a double knockout spectacular.
And finally, at Misawa vs Ryder, Willem Ruska threw out an open challenge to anybody who wanted to fight. The challenge was accepted by Triple H, who got his ass kicked by Ruska in the first round. Ruska's blood lust has not been purged, and he wants another victim. Who will be foolish enough to challenge Ruska this time?
| Matches | Stipulation |
| --- | --- |
| Mitsuharu Misawa (c) vs Tatanka | Brawl 4 All Championship |
| Eddie Bravo and Ariya Daivari vs The Johnsons (Dick and Rod) | Tag Team |
| Mike Awesome vs Yoshihiro Takayama | Two out of Three Falls |
| Willem Ruska vs Caprice Coleman | Willem Ruska's Open Challenge |
| Jim Duggan vs Abyss vs Rex Lawless vs Miguel Perez Jr. vs Chris Harris vs Bradshaw vs Randy Couture  vs Kota Ibushi | 8 Man Fuckfest |
| Chuck Mambo & Onryo vs Masao Inoue and Louie Spicolli | Tag Team |
| D'Lo Brown vs Ivelisse Velez | Non-Stop Fight |
| Randy Orton vs Johnny Swinger vs Xavier Woods vs Saturn vs Luke Harper vs Razor Ramon | Syxx-Pac Challenge |
| The Barbarian and Akam vs Dario Cueto and Mike Awesome | Tag Team |
| Jamie-San vs Curt Hennig vs Lance Storm vs Baretta vs Randy Savage | Zandig Challenge/Jeezus Special |
| Bobby Eaton, Low Ki, Head and Chojun Miyagi vs Psychosis, Sunny, Hisakatsu Oya and Alex Wright | 4V4 Barbed Wire Deathmatch |
#
Winner
Loser(s)
Notes
1
Abyss
Jim Duggan, Chris Harris, Bradshaw, Miguel Perez Jr., Randy Couture, Kota Ibushi and Rex Lawless

Eliminations:

1. Jim Duggan at 5:54 via backdrop by Harris

2. Chris Harris knocked himself out punching Couture at 7:23

3. Bradshaw at 8:32 via Powerslam by Abyss

4. Miguel at 8:54 via Golden Star Bomb by Ibushi

5. Randy Couture at 9:22 via Chokebomb by Lawless

6. Kota Ibushi at 10:19 by Lawless

7. Rex Lawless at 10:54 via punch by Abyss

2
Masao Inoue and Louie Spicolli
Chuck Mambo & Onryo

Eliminations:

1. Onryo at 10:58 via Backdrop by Spicolli

2. Inoue at 11:00 via punches by Mambo

3. Mambo at 11:53 via Spicolli Driver

3
D'Lo Brown
Ivelisse Velez
9:28 KO via atomic drop
4
Randy Orton
Johnny Swinger, Xavier Woods, Saturn, Luke Harper and Razor Ramon
Eliminations:

1. Swinger at 5:06 via Sit-Out Powerbomb by Harper

2. Saturn at 6:29 via Backdrop Driver by Woods

3. Razor at 9:22 via DDT by Orton

4. Harper at 9:42 via Armdrag by Woods

5. Woods at 10:06 via slam by Orton

5
Willem Ruska
Caprice Coleman
Round 3, 3:07 KO
6
The Barbarian and Akam
Dario Cueto and Mike Awesome

Eliminations:

1. Awesome at 7:46 via Death Valley Driver by Akam

2. Dario at 9:14 via Death Valley Driver by Akam

7
Randy Savage
Jamie-San, Curt Hennig, Lance Storm and Beretta

Eliminations:

1. Hennig at 10:12 via Arm Wringer by Savage

2. Jamie-San at 10:41 via Cradle Piledriver by Storm

3. Beretta at 12:44 via Half and Half suplex by Savage

4. Storm at 13:42 via elbow to the spine by Savage

8
Eddie Bravo and Ariya Daivari
The Johnsons (Dick and Rod)

One Johnson had his fucking arm broken at 4:19

The other Johnson got kicked in the fucking head at 9:56

9
Mike Awesome
Yoshihiro Takayama

Fall 1 out of 3 (Pro Wrestling match, Submissions only)

Takayama submit to the Camel Clutch at 13:33

10
Mike Awesome
Yoshihiro Takayama

Fall 2 out of 3 (MMA rules, with pinfalls)

Round 3 1:16. Awesome pinned Takayama with the Awesome Splash

11
Bobby Eaton, Low Ki, Head and Chojun Miyagi
Psychosis, Sunny, Hisakatsu Oya and Alex Wright
Eliminations:

1. Sunny at 14:16 via punches by Miyagi

2. Head at 14:17 via suplex by Alex Wright

3. Wright at 17:30 via punches by Miyagi

4. Psychosis at 18:16 via choke by Miyagi

5. Oya at 19:06 via armbar by Miyagi

Main Event
Mitsuharu Misawa
Tatanka
Round 2, 3:54 via elbow