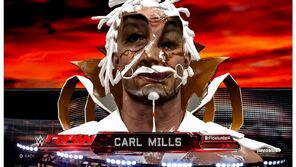 Background
Edit
"Stick E. Sundae" Carl Mills made his nL debut on the WWE 2K17 Midnight Release stream, when Johnny decided to check out the WWE 2K17 Create-A-Superstar mode. Carl Mills was involved in a "tragic accident" with a McDonalds caramel sundae which would leave his face horrifyingly disfigured. The specifics of the event is unknown. Years of training have made his body reach incredible peaks, but nothing has been able to fix his disfigured face.
Tryout & Training
Edit
Carl Mills was brought into the WWE Performance Centre for a tryout and trained under the guidance of Albert. His performance in his tryout was so successful that the officials decided to instead of having Stick E. Sundae do time in the WWE's developmental show, NXT, they decided to skyrocket him straight to the main roster in a tag team with Jayden Jet, who Carl Mills had his tryout match with, and also was skyrocketed into the main roster.
Main Roster
Edit
In his official WWE debut match on an episode of Monday Night RAW, Carl Mills defeated Jack Swagger in a ***1/2 match with the Tiger Driver '98. The next day on SmackDown, Carl Mills was booked in a 6-Man Tag Match involving himself, Jayden Jet and Stardust vs. The Miz and The Usos. Before the match, Mills made a mistake. Carl Mills thought that Stardust was in the opposing team and cut a promo against him right before the 6-Man Tag match. Mills tried his best to not sound as threatening as possible, but still came off as a dumb douche. The team of Mills, Jet, and Stardust won the match via countout; but Stardust is now not so fond of Mills due to the promo and is now a rival of his.
Ad blocker interference detected!
Wikia is a free-to-use site that makes money from advertising. We have a modified experience for viewers using ad blockers

Wikia is not accessible if you've made further modifications. Remove the custom ad blocker rule(s) and the page will load as expected.